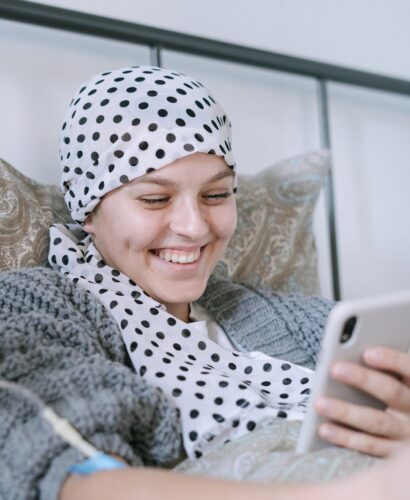 Summary
In Buenos Aires, Argentina, a multidisciplinary team comprising hospital staff and a homecare delivery company delivers chemotherapy in people's homes.1 The treatment is delivered by a specialist nurse, who receives telephone support from a doctor. At-home chemotherapy treatments have proven to be very safe, with more than 80% of people stating that they would choose to have chemotherapy at home rather than in the hospital.
Challenge
Over 130,000 people are diagnosed with cancer in Argentina each year.2 This figure is expected to grow in the coming decades, largely because of increases in cancers associated with smoking and obesity.3 4
Travelling regularly to a hospital or an outpatient clinic to receive chemotherapy can be highly disruptive to people living with cancer, especially as waiting times are often long.5 Spending time in medical facilities could also put the health of people receiving chemotherapy at risk, as the treatment can weaken the immune system by reducing white blood cell count, leading to an increased risk of infection.67
Solution
In 2018, a multidisciplinary team from the Central Military Hospital (Hospital Militar Central) and the Nutritional Support Centre (Centro de Apoyo Nutricional) in Buenos Aires began delivering chemotherapy in people's homes for several types of cancer, including prostate and colon cancer.1
People are eligible to receive chemotherapy through the service if they have no history of allergic reactions or other complications from previous rounds of chemotherapy delivered in a hospital or outpatient clinics.5 They must have a carer present, and their homes must have electricity and running water.
Chemotherapy medications are prepared at a dedicated compounding centre where pharmacists measure and mix the different chemicals to ensure that all treatments are ready to be delivered to individual patients.1 Specially trained nurses visit people's homes to administer the treatment; a doctor is available by telephone to provide additional support, if needed. A nurse calls each patient 24 hours following the chemotherapy treatment to monitor any side effects.5
What has been achieved?
Between February 2018 and May 2020, 147 people received a total of 1,018 chemotherapy treatments at home.1 More than 90% of these treatments took place without anyone experiencing serious adverse reactions; some people reported mild side effects, such as nausea and diarrhoea, but they did not need to stop treatment or seek emergency care.
Most people reported feeling just as safe at home as they did in a hospital, and they would choose to have chemotherapy at home again.1
Next steps
The multidisciplinary team is focusing on expanding its service beyond the capital city of Buenos Aires.5 This effort will involve developing systems to keep chemotherapy medications stable, so they can be transported over long distances.5 Providing the service in other areas of Argentina could make a considerable difference to the lives of people living with cancer, the majority of whom have to travel to the capital to access treatment.