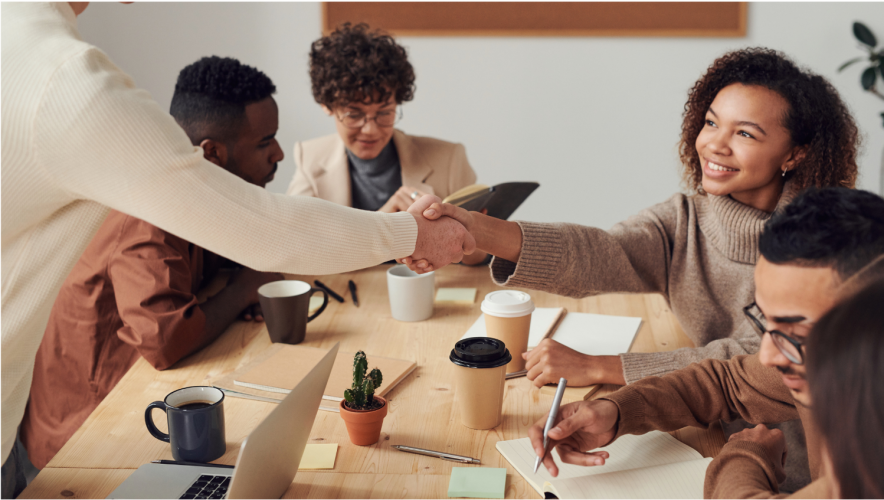 Summary
For many people living with and beyond cancer, returning to work is an important part of survivorship.1 However, cancer survivors are more likely to be unemployed compared with people who have never had cancer.2 Recognising this as a problem, oPuce, a social enterprise and foundation in the Netherlands, aims to improve employment opportunities and job retention for people living with and beyond cancer.3 Working closely with its corporate and academic partners, oPuce hopes to bring cancer and employment to the forefront of political and societal discussions. Their mission is to develop concrete solutions to the challenges faced by cancer survivors and people living with cancer. To date, they have already launched a covenant on cancer and employment, commissioned big data research, championed policy change, and developed digital tools for employers and employees.3-5
Challenge
For many cancer survivors and people living with cancer, returning to work is a crucial step in reconnecting with friends and colleagues, restoring financial stability and fostering feelings of self-worth and purpose.1 However, people who have had cancer are more likely to be unemployed than those who have never experienced the disease.2
Barriers to reengagement with work may include: symptoms that can follow cancer treatment, such as fatigue, stress and depression; perceived employer discrimination and non-supportive work environments; other illnesses or conditions (comorbidities); and the physical demands of manual work.2 Employers may lack experience in supporting people with cancer.6 They may also feel hesitant about hiring a person with a known history of cancer, particularly if they are legally required to provide sick pay in the event of recurrence.7
Solution
oPuce was founded as a social enterprise in 2012 by a cancer survivor, following her own experiences of cancer and unemployment.3 Working closely with its Business Network of large companies, oPuce focuses on the employment market and corporate social responsibility to identify existing job opportunities and best practices in employing people with a history of cancer.3 8
The oPuce Foundation was started in 2016 to build on the work of the social enterprise.8  The foundation aims to address cancer-related employment challenges at the political and societal level. It conducts and commissions big data research and champions policy change.3 7

What has it achieved?
The oPuce social enterprise has:
launched the Covenant Work and Cancer, in collaboration with its Business Network.9 The Covenant calls on companies to support equal employment opportunities, including job retention and return to work. It was signed by major employers in the Netherlands, including ABN AMRO, AkzoNobel, Deloitte, Inalfa, Johnson & Johnson, ManpowerGroup, Philips, PON, PostNL and De Volksbank9
created an ecosystem with employers, researchers and experts in cancer and employment, which serves as a platform for work and cancer to co-create solutions to common challenges 3 5
developed the Talent Connector, a digital tool that connects individuals with dedicated recruiters in the oPuce Business Network.3 5
The oPuce Foundation has:
commissioned big data research on cancer and employment.3 It tasked Deloitte and the Amsterdam University Medical Centre with exploring the impact of cancer diagnosis on employment using data from Statistics Netherlands (CBS).4 The research found no differences in salary and income between people with or without cancer overall, but it did find that certain sub-groups of cancer survivors were being left behind in the job market.4 Those particularly affected were young women, people with lower educational attainment, people working in hospitality and temporary workers.
facilitated the inclusion of cancer and employment as a policy topic in the agenda of the Dutch House of Representatives.8 As a result, the Ministry of Social Affairs and Employment launched a five-year 'no-risk policy' pilot programme to tackle employers' concerns about cancer recurrence when hiring people with a history of cancer.7 The pilot programme offers employers financial support to cover a person's sick pay in the event of recurrence. By reducing the financial risk for employers, the programme aims to improve hiring rates for cancer survivors.10 Data on its impact are expected in 2022.
Next Steps
oPuce and the oPuce Foundation will continue to work with their academic and corporate partners to:
expand the oPuce Business Network by inviting more companies to sign the Covenant Work and Cancer
publish the results of their second big data study, focused on insurance for people living with and beyond cancer
design online tools and serious games for employees and employers to increase job retention and reduce job loss, in collaboration with the Deloitte Impact Foundation, Johnson & Johnson and ManpowerGroup
develop the Legal Quickscan, a free digital tool offering legal advice to people navigating cancer and employment
share their solutions with other European countries to improve employment prospects for cancer survivors across Europe.3 5
Further information
Contact
Isabelle Lebrocquy, Founder of oPuce (isabelle@lebrocquy.net)