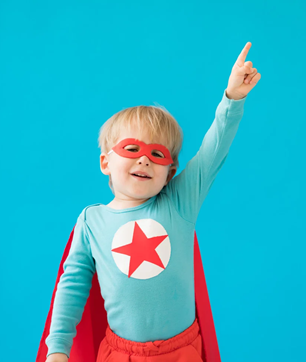 Summary
Children and young people undergoing radiotherapy for brain, head or neck cancer have to wear a special mask, which keeps them fixed to a bed to prevent movement.1 2 This can be a frightening experience, resulting in some children being given a general anaesthetic before every treatment.3 At a hospital in England, a play specialist works closely with children and young people to design personalised masks4 that reduce radiotherapy-related anxiety and help them feel more in control of their treatment experience.2 5
Challenge
People receiving radiotherapy for brain, head and neck cancers wear a specially moulded mask, which is fixed to a table to prevent movement.1 Wearing these masks can be particularly distressing for children, who may experience anxiety and claustrophobia.2 3 Parents or caregivers also have to leave the room during treatment, limiting communication to a two-way intercom.6
Children may be given general anaesthetic if they experience considerable distress or struggle to remain still during treatment.6 7 3 As radiotherapy typically takes place every weekday for several weeks, general anaesthesia can increase the burden on children and their families,7 affecting sleeping patterns, nutrition and daily routines. Repeated use can also raise healthcare costs.
Solution
Leeds Teaching Hospitals NHS Trust in England employs a play specialist to support children and teenagers undergoing radiotherapy.4 8 In 2016, she began encouraging children with head, neck or brain cancer to design their own radiotherapy masks, often based on their favourite superhero, cartoon character or animal.4 She paints the masks using water-based acrylic paints, which do not interfere with radiotherapy.
Children and young people who are involved in designing their masks feel less fearful about wearing them and more in control of their care journey.4 Many patients choose to  keep their mask as a reminder of their bravery once they finish treatment.
What has it achieved?
Since 2016, the play specialist has painted hundreds of radiotherapy masks.2 While it is difficult to prove that the initiative has reduced the use of general anaesthetic as many factors may influence such clinical decisions, parents have reported that:
their children have experienced less anxiety by being involved in the mask design and painting process
their children needed general anaesthetic for previous scans, but not for radiotherapy.2
The play specialist who launched the initiative states that children as young as three years old have undergone radiotherapy without general anaesthetic.2 Some children have even reported feeling excited about wearing their mask and undergoing treatment.4 Young people have also said that they appreciate having more control over their treatment journey.2 While the duration, frequency or type of radiotherapy cannot be changed, designing masks helps children and young people feel more involved in choices about their care.
In 2018, the radiotherapy masks initiative was awarded a Chroma Advancing Healthcare Award for 'realising potential through creativity'.9 One of the radiotherapy masks has also been displayed in the Wellcome Galleries of the Science Museum in London.10
Next steps
The play specialist will continue to offer mask painting as part of radiotherapy for people up to the age of 25.2 They will also share their insights and lessons learnt from the initiative with other hospitals.