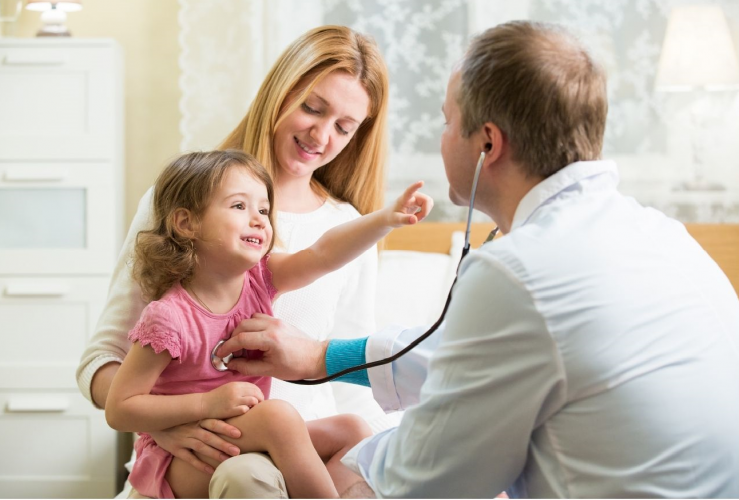 Summary
In Paraguay, children with cancer and their families may struggle to access appropriate cancer care, particularly if they live far from the capital city.1-2 Some children have had their treatment interrupted or abandoned due to complex referral systems and the cost of travel and accommodation. The National Childhood Cancer Care Network was set up to bring diagnostic services and follow-up care closer to children's homes.1-2 Four satellite clinics were opened in regional hospitals. The network improved outcomes for children with cancer by facilitating access to specialist care and increasing the number of children who completed their treatment.1-2 The network introduced teleconsultations in response to the COVID-19 pandemic and intends to continue providing this service moving forward.
Challenge
In Paraguay, over 20% of children with cancer had their treatment interrupted or abandoned in 2006.2 Based on data from 2016, cancer is the second leading cause of death for children and young people between the ages of 5 and 19.1
Many children with cancer are unable to access appropriate care due to the structure of the national healthcare system.2 The country has three separate hospital systems that provide cancer treatment: hospitals managed by the Ministry of Health, those in the social security system and the hospital managed by the National University of Asunción. Each system has its own cancer care team, resources and treatment protocols. As a result, cancer services vary between the systems and communication between centres is limited.
Specialist centres that diagnose and treat childhood cancer are typically located in and around the capital, Asunción.1 This means that many children and their families have to travel long distances to access cancer care. The cost of travel and accommodation is often unaffordable for families on a lower income.3 Complex referral systems and a shortage of childhood cancer specialists also hinder availability and access to appropriate care.2
Solution
In 2009, the Paediatric Cancer Centre of Asunción and the Asunción School of Medicine launched the National Childhood Cancer Care Network (Red Nacional de Atención del Cancer Infantil, ReNACI), with funding from the My Child Matters programme by the Sanofi Espoir Foundation.1 2 They opened four satellite clinics in regional hospitals to bring cancer care closer to patients. The clinics accept referrals from primary care and all three hospital systems.2
Staff in the satellite clinics work in multidisciplinary teams and are trained to inform families about the importance of attending appointments and completing treatment.2 They also monitor and manage side effects to increase the likelihood that children and their families will continue with treatment.4 Staff from the hospitals in Asunción also travel to the satellite clinics to provide consultations.5
The network has implemented an electronic patient registry and follow-up system, which alerts the care team when children miss appointments.4 This allows healthcare professionals to contact the parents and reschedule consultations. If parents are reluctant for their child to engage with treatment, the care team visits them at home to discuss concerns, provide support and encourage re-engagement.4
What has it achieved?
The National Childhood Cancer Care Network has increased access to cancer care for children living in remote areas.1 Most children with cancer still undergo treatment in specialist centres near Asunción, but diagnosis and follow-up care often take place closer to home, reducing the financial pressure on families and increasing engagement with treatment.
The network has:
diagnosed and/or provided follow-up care for 884 children through its regional satellite clinics (between 2009 and 2018)2
improved the three-year survival rate for children with acute lymphoblastic leukaemia from 65% (between 2000 and 2006) to 76% (between 2007 and 2012)3
reduced the proportion of children not completing treatment from 18% to 0% (between 2008 and 2011)1
introduced low-risk chemotherapy procedures in some of its satellite clinics, eliminating the need for children to travel to Asunción2
introduced teleconsultations for children living in remote areas and connected with children and their families via social media during the COVID-19 pandemic.
Next steps
The network will be expanded to include more regional satellite clinics and treatment options, such as chemotherapy.2 The team hopes to reach more children and families using digital technology – for example, by continuing to offer teleconsultations beyond the COVID-19 pandemic.5
Further information
A video about the network, featuring families who visited the satellite clinics.
The National Childhood Cancer Care Network's Instagram account, where they share information and hold online seminars.
Contact
Dr Angelica Samudio (Coordinator, National Childhood Cancer Care Network; Chief, Paediatric Haematology-Oncology Unit, Hospital de Clínicas, National University of Asunción)
References:
Samudio A, Figueredo D, Ayala A, et al. 2016. Modelo de atención del cancer en la infancia y adolescencia. Anales de la Facultad de Ciencias Médicas (Asunción) 49: 33-42
Howard SC, Zaidi A, Cao X, et al. 2018. The My Child Matters programme: effect of public-private partnerships on paediatric cancer care in low-income and middle-income countries. The Lancet Oncology 19(5): e252-e66
Samudio A, Figueredo D, Mattio I, et al. 2018. The My Child Matters Programme: The effect of the implementation of a Childhood Cancer Care Network (ReNACI) in the treatment abandonment of Acute Lymphoblastic Leukemia in Paraguay. Journal of Global Oncology 4(Supplement 2): 70s-70s
Fundacion ReNACI. 2015. Red Nacional de Atención del Cancer Infantil - ReNACI. Paraguay: Fundacion ReNACI
Samudio A, Figueredo D. 2021. Interview with Catherine Hodge at The Health Policy Partnership [videoconference]. 24/02/21