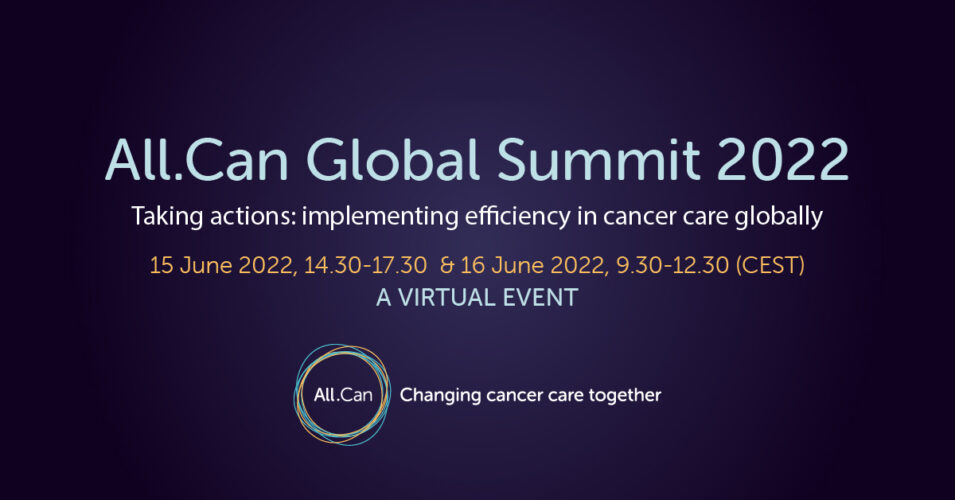 All.Can Global Summit 2022 – "Taking actions: implementing efficiency in cancer care globally"
15 & 16 June 2022
Background
All.Can International is a global, non-profit and multi-stakeholder initiative launched in 2016 to inform and generate political and public engagement on the need to improve the efficiency of cancer. Its mission is to support policy initiatives to improve cancer care efficiency by generating new evidence and facilitating the exchange of knowledge and best practices.
In February 2022, All.Can launched its "Building Efficiency in Cancer Care" blueprint which explains why achieving greater efficiency must be an urgent policy priority and puts forward a broadly applicable framework aimed at policymakers to help achieve efficiency throughout the cancer care continuum. In June 2022, All.Can will publish its Efficiency Metrics policy research which will propose a set of internationally applicable and real-world measures and aim to harmonise and set standards in cancer care efficiency globally.
Capitalising on the momentum around the landmark EU and international policy initiatives underway on cancer care, and on All.Can's latest publications, the summit will constitute a unique platform to exchange on ways to implement efficiency in cancer care and will aim to identify concrete, actionable steps to improving cancer care globally.
Event objectives
With the overall mission to identify concrete ways to build and implement efficiency in cancer care globally, the event will give a voice to patients, healthcare professionals, European and national policy-makers and decision-makers, industry players, national associations and initiatives, academics and researchers across the globe around four key themes:
empowering & partnering with people
supporting healthcare professionals
implementing a data-driven learning system
investing in efficient technologies.
Event Report  Event Executive Summary
Event dates
15 June at 14.30 – 17.30pm CEST
16 June at 9.30am – 12.30pm CEST
Global Summit Programme  Speakers Register here
Watch the recording of the All.Can Global Summit here: