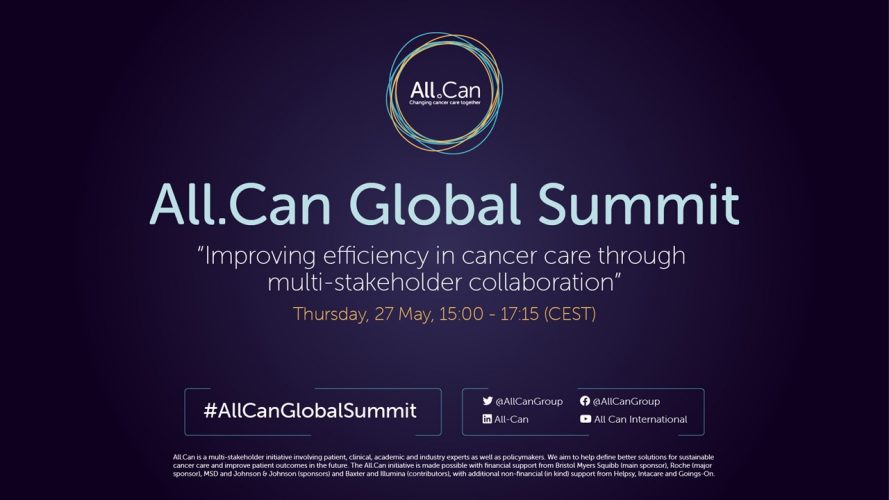 All.Can Global Summit – 'Improving efficiency in cancer care through multi-stakeholder collaboration'
27 May 2021
The All.Can Global Summit 2021 brought together policymakers, patients, healthcare professionals, industry, health economists, academics and All.Can members from across the globe.
On 27 May 2021 from 15:00 to 17:15 (CEST), we explored opportunities to drive efficiency in cancer care, and to achieve the best possible health outcomes using the human, financial, infrastructural and technological resources available, with a focus on what really matters to patients and societies. Collection and use of data is at the core of many advances in oncology, and we looked at how this data may be harnessed to drive improvements in cancer care.
WHO and OECD representatives joined the panels and gave their views on the policies and practices that are needed to drive efficiency, and on the optimal use of data in cancer care.
Download the presentations:
Register here Download the programme See the programme Speakers
---
All.Can Global Summit – Members and National Initiatives internal meetings 
28 May 2021
The policy-oriented external meeting of 27 May was followed by members-only internal meetings on 28 May, 09:30 – 11:00 and 16:30 – 18:00 (CEST). All.Can Members and National Initiatives were also invited to attend half-hour networking sessions following the meetings, from 11:00 to 11:30 and from 18:00 to 18:30 (CEST).
Register here Download the programme See the programme Speakers