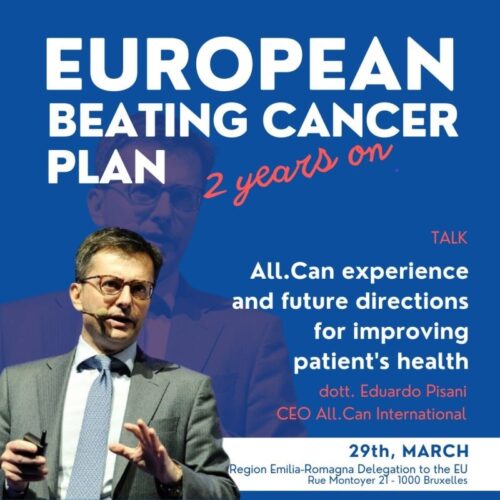 All.Can International's CEO, Eduardo Pisani, will speak at the upcoming "European Beating Cancer Plan: 2 Years On" event organised by Istituto Romagnolo per lo Studio dei Tumori "Dino Amadori" in Brussels, on 29 March 2023.
The event is a platform for stakeholders and decision-makers to take stock of the progress made by the European Union's "Beating Cancer Plan" initiative since its launch two years ago. Participants will also discuss the next steps in advancing cancer care in Europe.
Eduardo Pisani's speech at the event will be an opportunity for attendees to learn from All.Can International's experience in improving patient outcomes through efficiency and innovation. Mr. Pisani will share insights on the organisation's journey so far and its future directions in enhancing patients' well-being.
Register to attend the event using this link. Don't miss this exciting opportunity to gain valuable insights on improving cancer care in Europe!