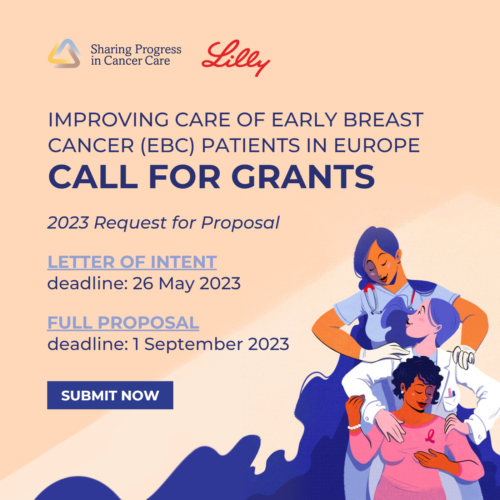 Sharing Progress in Cancer Care and Lilly are collaborating and seeking grant proposals in support of improving care of Early Breast Cancer (EBC) patients in Europe.
Thanks to a Quality Improvement Grant from Lilly, we are seeking independent projects with systematic and continuous actions that lead to measurable improvements in the delivery of care and health status of targeted patient groups within specific health systems. Proposals that have the most potential to directly impact the quality of care for EBC patients within European health systems will be prioritised.
The Request for Proposal (RFP) aims to encourage European Healthcare Systems, Cancer Care Centres or Networks to submit Letters of Intent (LOIs) describing concepts and ideas for the implementation of strategies which will measurably improve the quality of care of early breast cancer (EBC) patients.
Scope
SPCC and Lilly are committed to funding projects that:
Bring the health care team together, including innovative organisations, to understand gaps in practice and develop strategies to improve care/address the gap.
Further identify quality and performance gaps in the treatment of EBC with deeper analyses and understanding of gaps and needs of those targeted and/or included in the intervention. These can encompass a broad set of areas.
Facilitate health care systems and providers to engage patients, their caregivers, and families in shared decision-making.
Use evidence-based educational strategies that are aligned with the desired results of the intervention
Key Dates
Letter of Intent Deadline: 26 May 2023
Anticipated Letter of Intent Notification Date: 14 July 2023
Full Proposal Deadline: 1 September 2023
*Only accepted LOIs will be invited to submit full proposals.
Anticipated full proposal notification date: 15 November 2023
Anticipated period of performance: November 2023 to October 2025 (projects may have a shorter timeline but must not be longer than 2 years).
Budget Guidance
The total available budget related to this RFP is approximately $500,000 USD. Individual projects requesting up to $250,000 USD (including direct and indirect costs) will be considered; smaller, lower-cost projects are also strongly encouraged. Institutional overhead and indirect costs may be included within the grant request but the inclusion of these costs cannot cause the amount requested to exceed the budget limit set forth in the RFP.
Submission Instructions
Letter of Intent (LOI) should be submitted using this form (click here to access) no later than 11:59 pm U.S.Eastern Time (New York) on 26 May 2023 / 05:59 am CEST (Central European Summer Time) on 27 May 2023.
Complete all sections of the linked form referring to the included guide and available in the Appendix of the RFP.
The process leading to the awarding of grants will take place throughout 2023.
For full details about this call for proposals and full submission process visit SPCC website.