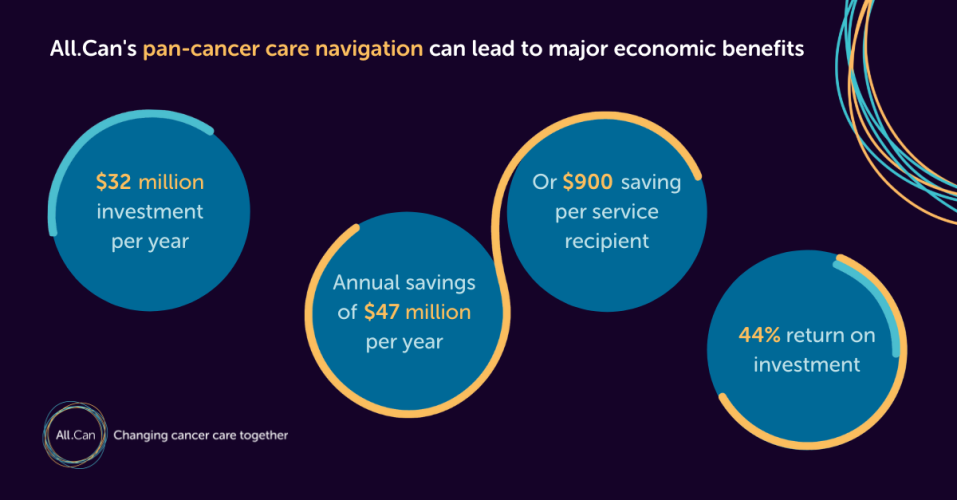 New research developed by All.Can Australia in collaboration with research partner Healthcare Management Advisors (HMA) highlights the potential benefits of establishing Australia's first pan-cancer navigation model. The All.Can Australia Cancer Care Navigator Analysis Report outlines how patients and the economy could benefit from a single model which would help all patients navigate the health system throughout their cancer journey.
The integrated cancer care navigation model aims to help guide those diagnosed with cancer – regardless of cancer type, demographic or location – through Australia's complex health system. The report concludes that pan-cancer care navigation may be able to deliver multiple patient, health system and economic benefits.
All.Can Australia also views the model as an opportunity to utilise emerging technology to drive better connectivity and equitable access in the cancer space. The pan-cancer navigation model has the potential to leverage customer relationship management (CRM) telehealth and emerging artificial intelligence, along with experienced navigators (both allied and healthcare professionals) already working across the health system.
Professor John Zalcberg – Co-Chair of the All.Can Australia Steering Committee and Head of the Cancer Research Program, Department of Epidemiology and Preventive Medicine School of Public Health at Monash University – said the efforts to investigate an Australian pan-cancer care navigation approach have the potential to transform cancer care delivery.
"We understand that navigation confusion continues to be a pain point for many cancer patients. This report helps to take our work to the next step, as now we potentially have a solution to tackle this. While the economic analysis of our research shows strong return on investment, it is the ability to better utilise existing services and create better connectivity that will make a huge difference to patients," said Professor Zalcberg.
Bill Petch –Chief Executive Officer of National Asthma Council Australia and Co-Chair of the All.Can Australia Steering Committee – said adopting a universal approach to cancer care navigation will position Australia as a leader in patient-centric care.
"Patients have long shared their feelings of disempowerment within our current health system. The adoption of a patient-centric and technology driven navigation model could help address the multitude of unmet needs Australians with cancer face, including unequitable access," said Mr Petch.
All.Can Australia plans to leverage the research findings to explore opportunities to pilot the proposed cancer care navigation model in Australia to collect further data and revisit the estimated benefits.