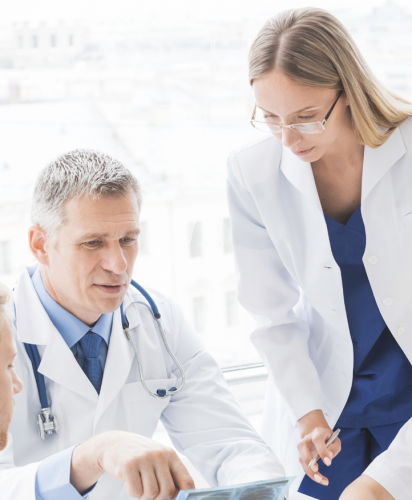 Sumamry
The Choosing Wisely® campaign was set up to reduce waste in healthcare and encourage evidence-based doctor–patient communication about appropriate and necessary care.1 It publishes guidelines for clinicians and patients listing procedures that provide little to no patient benefit, with the aim of reducing the use of these procedures in practice. Choosing Wisely® has partnered with more than 80 specialty societies across 20 countries to publish 525 recommendations in different healthcare areas. Initial findings suggest that the Choosing Wisely® campaign has reduced the use of unnecessary procedures in practice.2 3

Problem
Many commonly used practices in healthcare may not necessarily benefit patients – leading to wasted healthcare resources, unnecessary stress for patients and their families, and unnecessary risks associated with medical procedures and treatments.1 4-6 With the technological advances seen in oncology, healthcare professionals may overestimate the clinical benefit and effectiveness of certain diagnostic or therapeutic procedures, especially for patients with advanced cancer.7 Patients may also request additional procedures because they believe 'more healthcare is better than less'.8
Solution
The American Board of Internal Medicine launched the Choosing Wisely® campaign in 2012. The campaign aims to help patients choose evidence-based necessary care with minimal risk of harm through effective communication with their clinicians.9 It publishes both 'do not do' lists for clinicians and accessible educational materials for patients.
Professional medical societies in each disease area identify the top five practices that provide little to no clinical benefit for patients. These are published on the Choosing Wisely® platform as 'do not do' lists for clinicians. The Choosing Wisely® patient materials contain accessible information about medical procedures and specific diseases (including cancer) to help patients communicate effectively with their clinicians about treatment and care options. Resources are available as brochures, wallet cards, rack cards and videos.3 10
The Choosing Wisely® recommendations span the entire cancer patient pathway – covering screening, diagnosis, treatment, follow-up and palliative care.11-21 All recommendations are publicly available through the Choosing Wisely® website and mobile application.22
What has it achieved?
Choosing Wisely® has now partnered with over 80 specialty societies across 20 countries to publish 525 recommendations in different healthcare areas. It has also partnered with 70 consumer organisations, which have distributed more than 110 types of patient-friendly materials to millions of patients.10
A 2017 Choosing Wisely® survey of 601 clinicians across the United States found that:
77% of clinicians felt that unnecessary tests and procedures were a serious problem in healthcare
40% of clinicians had seen Choosing Wisely® materials
49% of clinicians found the Choosing Wisely® campaign very valuable
59% of clinicians familiar with Choosing Wisely® reduced their use of specific tests and/or procedures in the preceding 12 months.2
The Choosing Wisely® 'Things Physicians and Patients Should Question' lists aimed to reduce the use of low-value procedures by 10%. Based on a review of 12 of these lists, unnecessary practices are now used less than 1% of the time.3
Implementing Choosing Wisely® recommendations in oncology in practice
While the Choosing Wisely® campaign itself is not systematically measuring impact, many centres have chosen to implement different aspects of the Choosing Wisely® recommendations and have measured the subsequent impact on their clinical practice.
The MD Anderson Cancer Centre in Arizona implemented Choosing Wisely® recommendations by implementing an automatic alert in the electronic health records of lymphoma patients reminding clinicians to consider the benefits and risks of imaging – reducing the overall use of imaging from 48.3 to 25.3 scans a month.23 It also trained hospital staff in new blood transfusion guidelines for gynaecological cancer based on Choosing Wisely® recommendations. This initiative:
halved the number of blood transfusions from 24% to 11% of patients (national average: 14% of patients)
saved an estimated 49 units of blood and $13,426 per month without affecting patient outcomes.24
References:
Wolfson D, Santa J, Slass L. 2014. Engaging physicians and consumers in conversations about treatment overuse and waste: a short history of the choosing wisely campaign. Acad Med 89(7): 990-5
Choosing Wisely. 2017. DataBrief: findings from a national survey of physicians. Philadelphia: Choosing Wisely
Rand K. 2019. The Choosing Wisely campaign. AllCan Belgium Launch; 19/03/19; Brussels, Belgium
Chassin MR, Galvin RW, National Roundtable on Health Care Quality. 1998. The urgent need to improve healthcare quality: Institute of Medicine national roundtable on health care quality. JAMA 280(11): 1000-05
Emery DJ, Shojania KG, Forster AJ, et al. 2013. Overuse of Magnetic Resonance Imaging. JAMA Intern Med 173(9): 823-25
Swensen SJ, Kaplan GS, Meyer GS, et al. 2011. Controlling healthcare costs by removing waste: what American doctors can do now. BMJ Qual Saf 20(6): 534-7
Saletti P, Sanna P, Gabutti L, et al. 2018. Choosing wisely in oncology: necessity and obstacles. ESMO Open 3(5): e000382
Carman KL, Maurer M, Yegian JM, et al. 2010. Evidence that consumers are skeptical about evidence-based health care. Health Aff (Project Hope) 29(7): 1400-6
Choosing Wisely. Our mission. Available here: https://www.choosingwisely.org/our-mission/ [accessed: May 2019]
Choosing Wisely. 2016. Choosing Wisely: facts and figures. Philadelphia: Choosing Wisely
Hahn C, Kavanagh B, Bhatnagar A, et al. 2014. Choosing Wisely: the American Society for Radiation Oncology's top 5 list. Pract Radiat Oncol 4(6): 349-55
Hicks LK, Bering H, Carson KR, et al. 2013. The ASH Choosing Wisely® campaign: five hematologic tests and treatments to question. Blood 122(24): 3879-83
Schnipper LE, Smith TJ, Raghavan D, et al. 2012. American Society of Clinical Oncology Identifies Five Key Opportunities to Improve Care and Reduce Costs: The Top Five List for Oncology. J Clin Oncol 30(14): 1715-24
Choosing Wisely Canada. 2014. Ten Things Physicians and Patients Should Question. [Updated June 2017]. Available here: https://choosingwiselycanada.org/oncology/ [accessed: March 2019]
Schnipper LE, Lyman GH, Blayney DW, et al. 2013. American Society of Clinical Oncology 2013 top five list in oncology. J Clin Oncol 31(34): 4362-70
Mitera G, Earle C, Latosinsky S, et al. 2015. Choosing Wisely Canada cancer list: ten low-value or harmful practices that should be avoided in cancer care. J Oncol Pract 11(3): e296-303
Cheung MC, Mittmann N, Earle CC, et al. 2018. Are we choosing wisely in lymphoma? Excessive use of surveillance CT imaging in patients with diffuse large B-cell lymphoma (DLBCL) in long-term remission. Clin Lymphoma Myeloma Leuk 18(1): e27-e34
Consumer Reports. 2017. Imaging tests for melanoma: when you need tests for skin cancer and when you don't. Philadelphia: Choosing Wisely
Consumer Reports. 2017. Palliative care: support at any time during a serious illness. Philadelphia: Choosing Wisely
Consumer Reports. 2014. Screening tests for ovarian cancer: when you need them and when you don't. Philadelphia: Choosing Wisely
Consumer Reports. 2018. PET scans after cancer treatment: when you need them and when you don't. Philadelphia: Choosing Wisely
Choosing Wisely. 2017. Choosing Wisely is now an app! [Updated 17/08/17]. Available here: https://www.choosingwisely.org/resources/updates-from-the-field/choosing-wisely-is-now-an-app/ [accessed: May 2019]
Choosing Wisely. 2016. American society of hematology to recognize choosing wisely champions at 58th annual meeting. Available here: https://www.choosingwisely.org/american-society-of-hematology-to-recognize-choosing-wisely-champions/ [accessed: May 2019]
Prescott LS, Taylor JS, Enbaya A, et al. 2019. Choosing wisely: decreasing the incidence of perioperative blood transfusions in gynecologic oncology. Available here: https://doi.org/10.1016/j.ygyno.2019.03.008