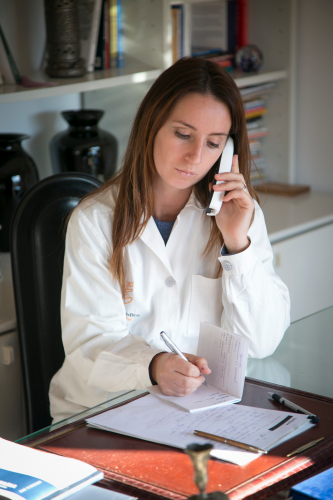 Summary
People with cancer may find it difficult to find accurate, accessible and personalised information about their diagnosis and treatment options.1 2 To address this issue, the Anticancer Fund, a Belgian non-profit organisation, launched My Cancer Navigator in 2019.3 This free service offers people access to a team of scientists and healthcare professionals, who answer cancer- and treatment-related queries based on comprehensive research.3 The team summarises its findings in tailored, accessible documents to help people explore their treatment options and take part in shared decision-making with their care team. In 2020, My Cancer Navigator received 247 requests for information.4
Challenge
Some people may respond to a cancer diagnosis by seeking out as much information as possible;2 they may consult with healthcare professionals, friends and family, or turn to the internet.5 The high volume of online content can present a challenge, particularly when information is contradictory or inaccurate.2 6
It may sometimes be difficult for a person with cancer to determine whether the information they find is relevant to their diagnosis and circumstances.2 Even when they do receive accurate information from their care team, they may struggle to process it and ask questions in a consultation.7
Access to appropriate information is essential for shared decision-making – when people with cancer are actively involved in decisions about their care.8
Solution
In 2019, the Anticancer Fund launched My Cancer Navigator – a dedicated and personalised service that provides reliable information to people with cancer.3 7 Support can be requested by email, telephone or by filling out a form on the organisation's website. While the Anticancer Fund is based in Belgium, My Cancer Navigator can respond to queries from other countries in Dutch, French or English.7
After the initial request for support, a healthcare professional working with the service will get in touch to assess the person's questions and concerns.3 This assessment is anonymised and relayed to a team of scientists and healthcare professionals, who review the person's case and collate relevant information from literature, clinical guidelines and scientific journals. The team can also determine whether the person is eligible for any clinical trials in the country they are living in or a neighbouring one.3 7
This information is compiled into an accessible document and shared with the person.3 In a follow-up call with My Cancer Navigator, they can discuss the summary and make a list of additional questions for their cancer care team. This process helps to support shared decision-making.3
What has it achieved?
My Cancer Navigator began advising people with cancer in 2019.7 In 2020, the service received 247 requests for information. Of these requests:
30% were from people wanting to explore treatment options
5% came from healthcare professionals asking for information on behalf of their patients
6% were for children with cancer
10% came from people with cancer and healthcare professionals interested in finding clinical trials
13% came from the US.4
Next steps
The Anticancer Fund hopes to make My Cancer Navigator available to more people with cancer.7 The organisation has developed a strategic plan and is exploring sources of additional funding, collaborations with other organisations and options to expand to other languages.
References:
Tran Y, Lamprell K, Nic Giolla Easpaig B, et al. 2019. What information do patients want across their cancer journeys? A network analysis of cancer patients' information needs. Cancer Med 8(1): 155-64
Jensen JD, Carcioppolo N, King AJ, et al. 2014. The cancer information overload (CIO) scale: establishing predictive and discriminant validity. Patient Educ Couns 94(1): 90-6
Anticancer Fund. 2021. We help patients. Available here: https://www.anticancerfund.org/en/we-help-patients [accessed: July 2021]
Anticancer Fund. 2020. Annual Report 2020. Brussels: Anticancer Fund
Serçekuş P, Gencer H, Özkan S. 2020. Finding useful cancer information may reduce cancer information overload for Internet users. Health Information & Libraries Journal 37(4): 319-28
Grimes DR. 2019. How to survive the fake news about cancer. [Updated 14/07/19] Available here: https://www.theguardian.com/science/2019/jul/14/cancer-fake-news-clinics-suppressing-disease-cure
Buyens G. 2021. Interview with Catherine Hodge at The Health Policy Partnership [Video call]. [accessed: August 2021]
Kehl KL, Landrum MB, Arora NK, et al. 2015. Association of Actual and Preferred Decision Roles With Patient-Reported Quality of Care: Shared Decision Making in Cancer Care. JAMA Oncology 1(1): 50-58