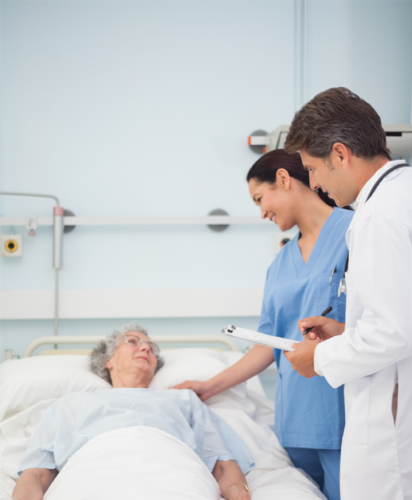 Summary
Emergency care departments are typically designed to care for people for up to six hours.1 However, some people cannot be safely discharged within that timeframe – for example, they may have multiple long-term conditions that make their care more complex.2 3 These people have to be admitted to hospital for further care, but some can be safely discharged within 24 to 48 hours. People with cancer may experience these short-stay hospitalisations for cancer-related complications – such as dehydration, fever or pain – increasing exposure to hospital-acquired infections, risk of mortality, healthcare costs and the burden on families/carers.4-6 Observation units enable emergency care professionals to observe people for an additional 24 to 48 hours before hospital admission. At the Memorial Sloan Kettering Cancer Center in the United States, implementation of an observation unit significantly reduced hospital admissions from emergency care and short-stay hospitalisations in people with cancer.4
Challenge
Emergency care departments are typically designed to diagnose, treat and monitor people for up to six hours.1 However, emergency care is becoming increasingly complex as the ageing global population leads to more people having multiple long-term conditions.2 3 This increased complexity means that people often cannot be safely discharged from emergency care within six hours.1 People often have to be admitted to hospital for further monitoring and care, with some of them safely discharged within 24 to 48 hours of admission.
People with cancer may experience these short-stay hospitalisations for complications related to their disease and/or treatment, such as dehydration, nausea, vomiting, fever or pain.4 An alternative care model was needed for these complications because hospitalisation increases exposure to hospital-acquired infections and risk of mortality in people with cancer.5 6 It also generates significant healthcare costs and places a burden on families and carers.4
Solution
Following calls from healthcare insurers to reduce avoidable healthcare costs, hospitals in the United States began trialling observation units to reduce short-stay hospitalisations.3 7 Observation units are physical or virtual care units that act as an extension of emergency care, allowing healthcare professionals to observe people for an additional 24 to 48 hours before hospital admission.1 2 8 This extended observation period enables healthcare professionals to address and monitor minor cancer-related complications, without the need for hospital admission.
What has it achieved?
The Memorial Sloan Kettering Cancer Center in New York implemented an urgent observation unit in 2013, consisting of 11 beds monitored by healthcare professionals in the emergency care department.4 Implementation of the urgent observation unit reduced:
the number of hospital admissions from the emergency care department, from 50% to 47%
the proportion of hospitalisations lasting less than 24 hours, from 7% to 5%.4
People with cancer referred for observation typically presented with fever, abdominal pain, limb pain, neurological complaints or breathlessness.4 The 'virtual unit' in the emergency care department was eventually converted into a physical nine-bed unit adjacent to the emergency care department – the Clinical Decision Unit – to maintain observational care services.9

Next steps
Initial studies suggest that observation units can reduce short-stay hospitalisations for people with cancer.4 7 However, further research is needed to establish whether this care model is cost-effective, and whether these changes translate into better health outcomes for people with cancer, such as improved survival rates or quality of life.
Further information
References:
Ross MA, Hockenberry JM, Mutter R, et al. 2013. Protocol-driven emergency department observation units offer savings, shorter stays, and reduced admissions. Health affairs (Project Hope) 32(12): 2149-56
Baugh CW, Venkatesh AK, Bohan JS. 2011. Emergency department observation units: A clinical and financial benefit for hospitals. Health care management review 36(1): 28-37
Baugh CW, Venkatesh AK, Hilton JA, et al. 2012. Making greater use of dedicated hospital observation units for many short-stay patients could save $3.1 billion a year. Health affairs (Project Hope) 31(10): 2314-23
Lipitz-Snyderman A, Klotz A, Atoria CL, et al. 2015. Impact of observation status on hospital use for patients with cancer. J Oncol Pract 11(2): 73-7
Brooks GA, Abrams TA, Meyerhardt JA, et al. 2014. Identification of potentially avoidable hospitalizations in patients with GI cancer. Journal of Clinical Oncology 32(6): 496-503
Cornejo-Juárez P, Vilar-Compte D, Pérez-Jiménez C, et al. 2015. The impact of hospital-acquired infections with multidrug-resistant bacteria in an oncology intensive care unit. International Journal of Infectious Diseases 31: 31-34
Lipitz-Snyderman A, Klotz A, Gennarelli RL, et al. 2017. A Population-Based Assessment of Emergency Department Observation Status for Older Adults With Cancer. Journal of the National Comprehensive Cancer Network : JNCCN 15(10): 1234-39
Daly S, Campbell DA, Cameron PA. 2003. Short-stay units and observation medicine: a systematic review. The Medical journal of Australia 178(11): 559-63
The Memorial Sloan Kettering Cancer Center. About the Clinical Decision Unit at MSK [10/01/2020]. Available here: https://www.mskcc.org/cancer-care/patient-education/about-clinical-decision-unit-msk [accessed: February 2020]