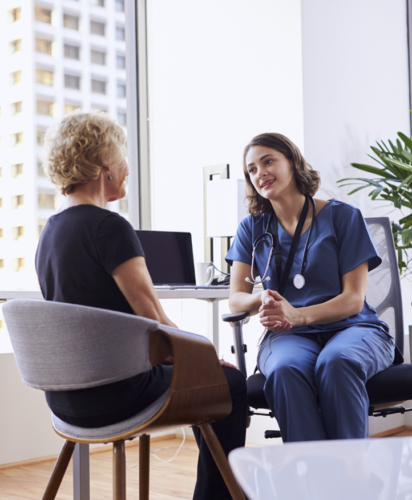 Summary
In Italy, support beyond active cancer treatment is limited and people with cancer are often hospitalised for tumour-related symptoms and treatment complications.1 2 Frequent and unplanned hospitalisations can interfere with planned treatment, increase healthcare costs and add to the burden on people with cancer and their families/carers. Two centres in Italy – the Fondazione IRCCS Institute Nazionale dei Tumori in Milan and the Azienda Ospitaliero-Universitaria Pisana in Pisa – set up supportive care services to address this issue.2 3 Supportive care focuses on preventing and managing adverse effects from cancer and its treatment throughout a person's care pathway.4 The implementation of supportive care services reduced healthcare costs, unplanned hospital admissions and emergency room visits.2 3
Challenge
People with cancer need support that extends beyond active treatment – for example, they may experience tumour-related symptoms, psychosocial and spiritual challenges, or post-treatment complications.3 Models of cancer care that focus solely on active treatment leave people with cancer unsupported for a large part of their care pathway.
In Italy, this limited support is linked to frequent and lengthy hospitalisation of people with cancer, often for tumour-related symptoms and treatment complications.1 2 More than half of these hospitalisations are resolved using basic supportive measures, such as opiates for pain or antibiotics for infections. There is a need to support people with cancer before, during and after active treatment because frequent and unplanned hospitalisation may interfere with or delay planned treatment, such as chemotherapy.2 It also increases healthcare costs and adds to the burden on people with cancer and their families/carers.
Solution
Supportive care focuses on preventing and managing adverse effects from cancer and its treatment throughout the entire care pathway.4 It addresses physical, psychological and spiritual concerns, and key components may include cancer screening, management of symptoms and side effects, rehabilitation, survivorship support and palliative care.
Two centres in Italy set up supportive care services for people with cancer. At the Fondazione IRCCS Institute Nazionale dei Tumori in Milan, people with cancer and uncontrolled symptoms or treatment-related toxicities can attend an outpatient supportive care unit, freeing up hospital beds in oncology units for people with scheduled anticancer treatment.2 Similarly, at the Azienda Ospitaliero-Universitaria Pisana in Pisa, people with cancer have access to an outpatient supportive care service led by medical oncologists, nurses, psychologists and spiritual assistants.3
These units do not offer anticancer therapy, but focus on providing tailored supportive care based on an initial clinical evaluation.2 3 Examples of interventions include intravenous hydration, pain relief, treatment of infections, management of treatment-related side effects, education and psychological or spiritual support for people with cancer and their families/carers.
What has it achieved?
The introduction of the supportive care unit at the Fondazione IRCCS Institute Nazionale dei Tumori meant that people with cancer were able to receive blood transfusions in an outpatient capacity. This initiative:
reduced the cost of a single transfusion by up to €398 in 2013
saved €297,633 in healthcare costs between 2010 and 2013.2
Despite an increase in the number of people being treated for cancer at Azienda Ospitaliero-Universitaria Pisana between 2011 and 2012, the supportive care service reduced:
unplanned hospital admissions from 17% to 14%
emergency room visits from 66% to 61%
the total number of hospitalisation days for people with cancer by 15% (1,623 days to 1,378 days)
the total cost of hospitalisation for people with cancer by 2% (€1,181,078 to €1,155,299).3
Next steps
The supportive care unit at the Fondazione IRCCS Institute Nazionale dei Tumori plans to expand its service with psychological and spiritual assistance.2 The supportive care service at Azienda Ospitaliero-Universitaria Pisana continues to see all people with cancer presenting with a new issue related to their disease or its treatment.3
Further information
• The website of the Multinational Association of Supportive Care in Cancer (MASCC)
• The MASCC guidelines for supportive care in cancer

References:
Numico G, Cristofano A, Mozzicafreddo A, et al. 2015. Hospital Admission of Cancer Patients: Avoidable Practice or Necessary Care? PLOS ONE 10(3): 10.1371/journal.pone.0120827
Ripamonti CI, Molani P, Desti C, et al. 2017. A supportive care in cancer unit reduces costs and hospitalizations for transfusions in a comprehensive cancer center. Tumori 103(5): 449-56
Antonuzzo A, Vasile E, Sbrana A, et al. 2017. Impact of a supportive care service for cancer outpatients: management and reduction of hospitalizations. Preliminary results of an integrated model of care. Supportive Care in Cancer 25(1): 209-12
Multinational Association of Supportive Care in Cancer. Available here: https://www.mascc.org/about-mascc [accessed: February 2020]