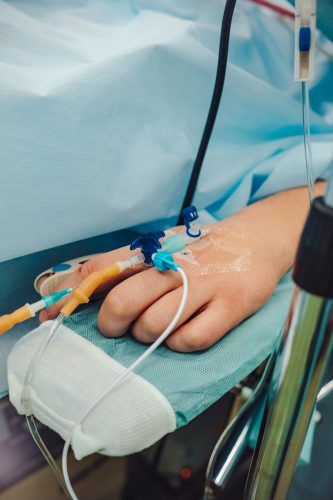 Summary
In the US, inefficiencies in the delivery of chemotherapy reduce the capacity of cancer services and lengthen waiting times for patients.1 2 In 2015, the National Comprehensive Cancer Network formed an Infusion Efficiency Workgroup to standardise and improve chemotherapy procedures. The workgroup produced a journal article and best-practice toolkit to shift chemotherapy procedures from inpatient to outpatient settings.1 2 Use of these materials reduced the burden on inpatient services, shortened waiting times for people with cancer and lowered healthcare costs.1 3
Challenge
In the US, chemotherapy appointments for people with cancer often involve long waiting times.2 People typically wait over an hour for treatment, often because anti-nausea medication needs to take effect or chemotherapies need to be prepared. These delays can be stressful when treatment spans several days and causes side effects such as fatigue and nausea.2
Inefficient delivery of chemotherapy also reduces the capacity of cancer services.2 A survey of 22 cancer centres found that the duration of the same outpatient chemotherapy regime could range from 85 to 240 minutes. In some centres, people remain in the treatment chair for observation and rehydration, meaning that fewer people can be treated per day.2 People undergoing complex chemotherapy are often admitted to hospital for inpatient treatment and monitoring, despite evidence that complications are rare.3 This increases the burden on inpatient services.
Solution
In 2015, the National Comprehensive Cancer Network formed an Infusion Efficiency Workgroup to identify best practices for chemotherapy infusion centres.1 In 2019, the group published a paper calling for standardised procedures and shorter infusion times for common chemotherapies.2 They also created a best-practice toolkit to help move inpatient chemotherapy to outpatient settings and reduce the amount of time people spend in hospital.1
The toolkit was developed with input from doctors, nurses, pharmacists, social workers and IT professionals.1 It includes information on 12 common chemotherapies, with two fact sheets per treatment.
One fact sheet, aimed at healthcare professionals, outlines:
approximate duration of treatment (i.e. how long a person should be in the treatment chair)
blood tests and assessments needed before and after treatment
management of common side effects
need for caregivers to attend chemotherapy appointments.1
The second fact sheet is designed for people with cancer. It includes:
a likely treatment schedule, including blood tests and other assessments
information on common side effects and medications prescribed between chemotherapy appointments
space to fill out treatment dates and contact details for help and advice.1
What has it achieved?
The toolkit was used by Moffitt Cancer Center in Florida to shift inpatient chemotherapy to an outpatient infusion centre led by a physician's assistant.1 This process:
shortened waiting times between chemotherapy cycles2
helped people spend fewer days in hospital (a decrease of more than 2,000 hospital days for cancer per year)3
reduced healthcare costs for chemotherapy1
increased the centre's annual profit margin by an estimated USD $4 million.3
In 2020, the National Comprehensive Cancer Network promoted the toolkit to support the provision of outpatient chemotherapy during the COVID-19 pandemic.4 It has since been adopted by other healthcare organisations with similar success.3

Next steps
The National Comprehensive Cancer Network will keep using the toolkit to shift common chemotherapies from inpatient to outpatient settings, with plans to eventually expand services to people's homes.1 The team is also working on ways to deliver complex chemotherapy, such as treatment for leukaemia, in outpatient clinics.3
Further information
A journal article about the research that informed the development of the toolkit
Contact
Dr Timothy Kubal (Oncologist and Medical Director of Process Excellence, Moffit Cancer Center)
References:
National Comprehensive Cancer Network® Best Practices Committee Infusion Efficiency Group. 2019. Toolkit: Providing Oncology Treatments in the Outpatient Setting. Plymouth: NCNN®
Sugalski JM, Kubal T, Mulkerin DL, et al. 2019. National Comprehensive Cancer Network® Infusion Efficiency Workgroup Study: optimizing patient flow in infusion centers. J Oncol Pract 15(5): e458-e66
Kubal T. 2021. Interview with Catherine Hodge at The Health Policy Partnership [videoconference]. [accessed: March 2021]
National Comprehensive Cancer Network®. 2020. Coronavirus Disease 2019 (COVID-19): Resources for the cancer care community. Available here: https://www.nccn.org/covid-19/ [accessed: March 2021]