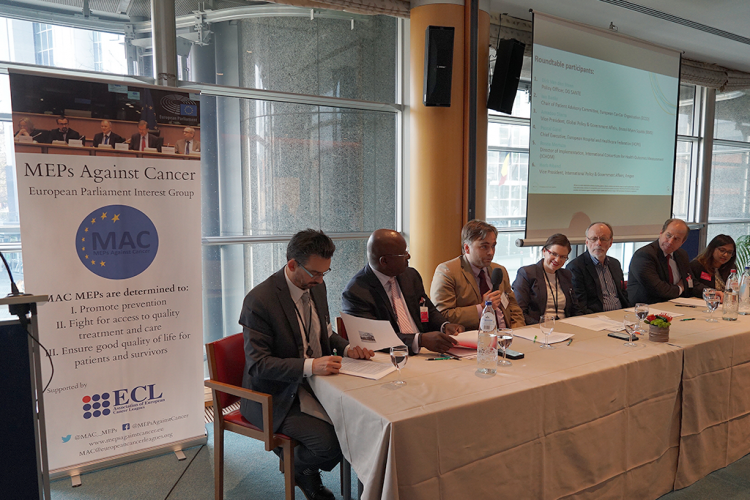 The seminar gathered over 50 representatives from a broad range of sectors. Stakeholders represented included: healthcare professionals, such as oncology specialist nurses and radiotherapy; patient advocacy groups; policymakers; and medical devices, digital health and pharmaceutical industry. This allowed for a multidisciplinary take on the issues under discussion.
Ms Wierinck, a cancer survivor and strong advocate for better cancer care across Europe, passed a resolution on the European Semester in February 2017 to include measures aimed at improving efficiency in cancer care at the EU level. In her opening address, she said: 'How do we define "efficient cancer care"? Focusing on outcomes that truly matter to patients is a good place to start.'
The seminar advanced this topic and focused on solutions that have been shown to improve efficiency across the entire care pathway – from small-scale efforts to system-wide changes – and encouraged policymakers to adopt such practices in their countries.
The seminar was very well attended, and some of the keynote speakers included:
Lydia Makaroff, Director of ECPC
Dr Ian Banks, Chair of the Patient Advisory Committee at ECCO
Dirk van den Steen of the European Commission's health directorate (DG Santé
Amadou Diarra, Head of Global Policy, Advocacy and Government Affairs at Bristol-Myers Squibb
Pascal Garel, Chief Executive of the European Hospital and Healthcare Federation (HOPE)
Rosna Mortuza, Director of Implementation at the International Consortium for Health Outcomes Measurement (ICHOM)
Herb Riband, Vice President of International Policy and Government Affairs at Amgen
Dr Suzanne Wait, representing the All.Can Secretariat
Ms Wierinck summarised discussions from the day. 'We need to make sure our efforts are joined together – that we are efficient in our attempts to combat inefficiency,' she said. 'I believe that sometimes we do not all work together, and there are so many examples of good practice that could be replicated; so many good ideas that never make it across borders of Member States. The EU offers a huge opportunity for exchange and collaboration. We should take full advantage of this, and look for solutions together.' A key takeaway from the day is that the challenge of providing sustainable cancer care cannot be achieved by a single stakeholder alone.
The outcomes of the seminar have been published in the World Cancer Day edition of The Parliament Magazine.
What's next?
All.Can is determined to bring new data, best-practice examples and concrete solutions to European policymakers. Below is a summary of our upcoming plans and activities, and how to get involved:
We have launched the All.Can patient survey on waste and inefficiency in cancer care. Opportunities will be sought to share findings from the survey with MEPs and the European Commission.
The ICHOM–All.Can Value in Cancer Care project is calling for cancer centres to participate; see the call for applications.
Join us at the ECCO summit in Vienna from 7–9 September 2018, where there will be a session on improving efficiency in cancer care; see the preliminary programme.
Learn more about the work of All.Can by watching our animation and reading our annual report.
To find out whether your country has a national All.Can initiative, more information can be found on our All.Can around the world page.