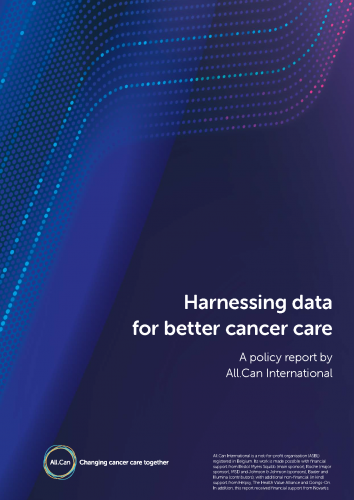 By Christobel Saunders, Professor of Surgical Oncology, University of Western Australia Medical School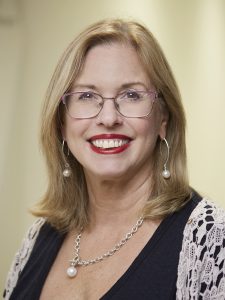 In this blog, Prof Saunders outlines priority areas for action from the All.Can report findings, Harnessing data for better cancer care.
The recently published All.Can policy report Harnessing data for better cancer care provides some clear pathways for change for clinicians such as myself to use in advocating to health service providers, funders, and governments for the better use of health data. If acted upon, these changes will start to address some of the barriers to optimal clinical data collection and use, which we know will lead to direct improvements in the outcomes for those affected by cancer.
There are several good examples of using data to drive change, highlighted by the report findings, that can be acted upon now:
Improving the data we collect through population screening programmes and using this to develop risk based screening strategies which will help target those for whom screening will make most impact. The introduction of lung cancer screening programmes in many countries is an ideal opportunity to encourage better use of screening data, as well as integrate AI into the actual screening protocols. Linking screening data to cancer and death registries is a real-world way of evaluating the impact of screening programmes into the future.
Improving timeliness and accuracy of cancer diagnosis is of huge concern to our patients and doing better at this will lead to cost efficiencies as well as better clinical and patient outcomes. Using data more efficiently, for example using AI to interrogate diagnostic pathways, and linking data sets to decrease repetitive testing and focus on the most useful testing – value-based pathology – is one way we can do this.
Developing data driven decision support tools, utilizing both clinical and patient-reported data, will lead to both better patient-centred care as well as better value care, driving efficiencies and improving outcomes. A good example is in prostate cancer, where multiple treatment options with differing outcomes need real partnership of the patient and clinician to come up with the best treatment for the patient.
In survivorship care, collecting and utilising patient data can lead to real improvements in how our patients not only survive their cancer but We need to understand how the cancer and the treatments we use impact the patient in the long term, but currently rarely collect or use this data.
The report highlights several calls to action we can ALL be part of:
Lobby for better national cancer data as part of routine cancer care – and with inbuilt quality standards. This will need both technological solutions as well as linkages and intra-operability with other datasets and registries.
But we need to ensure these data systems are not overly burdensome on the clinical workforce – if an EMR or cancer data system just increases the workload of a clinician without producing obvious benefits this will not only demoralise our care staff but will certainly not lead to better patient outcomes!
Finally, we must ensure the data we collect, and use is relevant to the care and outcomes our patients require – we need to go beyond our current data collections of process measures and concentrate on the outcomes that really matter,and to do this we need to fully engage with consumers and make them part of the process!
As a starting point, I believe that we should focus on addressing the above-mentioned calls to action from the All.Can report as a priority, to ensure that we are optimising the use of data for the overall benefit of cancer patients and their families.
ABOUT THE AUTHOR:
Professor Christobel Saunders AO, MB BS, FRCS, FRACS, FAAHMS, is internationally recognised as one of Australia's most prominent research-orientated cancer surgeons. She has substantially contributed to many clinical aspects of breast cancer research including clinical trials of new treatments, psychosocial, translational and health services research and is active in several areas of surgical oncology cancer research, with a particular emphasis on breast cancer. Professor Saunders is an active member of All.Can Australia, and All.Can International, since 2018. She is Vice President of All.Can International, on the Board of Directors, and Co-Chair of the International Research and Evidence Working Group and contributed to the recent All.Can publication Harnessing data for better cancer care.