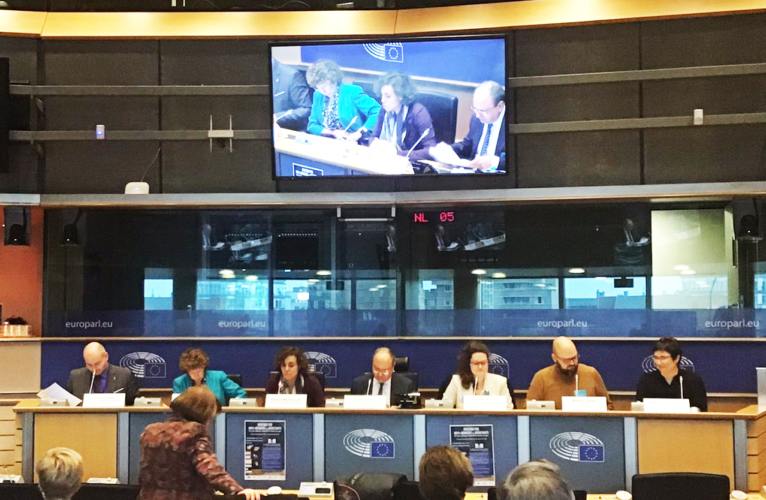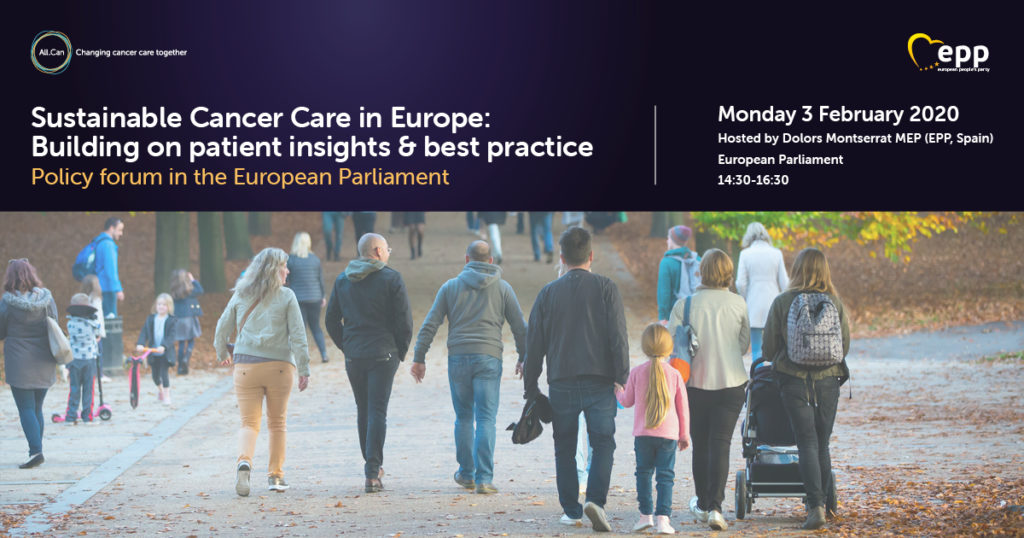 All.Can held a policy forum at the European Parliament on 3 February 2020, hosted by Dolors Montserrat MEP. Ahead of the launch of Europe's Beating Cancer Plan on World Cancer Day (4 February 2020), policymakers, decision-makers and stakeholders attended the forum, titled 'Sustainable cancer care in Europe: building on patient insights and best practice'. The event focused on steps the EU should take to improve cancer care and prevention across Europe, based on findings from the All.Can patient survey and national examples of efficiency in practice from All.Can Belgium, All.Can Poland and All.Can Spain.
Ms Montserrat opened the event by welcoming attendees before stressing the importance of delivering sustainable, timely and efficient care to everyone with cancer. Matthias Schuppe of DG SANTÉ followed on by highlighting that there is a clear mandate the for European Commission to improve the quality of cancer care and prevention across Europe. He acknowledged that data from the All.Can patient survey fill an important data gap and could play a role in assisting the European Union in its aims.
Kathy Oliver, All.Can member and co-founder of the International Brain Tumour Alliance, presented findings from the All.Can patient survey, which highlighted four areas of inefficiency, and called on European policymakers to deliver policies that tackle these areas in the upcoming cancer plan. The four areas Kathy Oliver discussed were:
A Swift, accurate and appropriately delivered diagnosis
Information, support and shared decision-making
Integrated multidisciplinary care
The financial impact of cancer
All.Can national initiatives from Belgium, Poland and Spain presented projects from their respective countries that tackle inefficiencies in cancer care. All.Can Spain has identified 36 inefficiencies across the cancer care pathway and has begun work focusing on two key areas, namely a lack of follow-up care for survivors and limited doctor–patient communication.
All.Can Belgium presented the 'Allezi' project, which aims to promote the reintegration of cancer patients in the workforce through training and a quality label for coaches who want to specialise in cancer and work.
All.Can Poland presented two projects including 'Implementation of the oncological patient service management system within the National Oncology Chain – Breast and Lung Units', which identifies and assesses maps of processes taking place in cancer units.
Ms Montserrat, Mr Schuppe and Ms Oliver then participated in a panel discussion, along with Tomislav Sokol MEP, Antonella Cardone of the European Cancer Patient Coalition and Suzanne Wait of the All.Can international Secretariat.