Cancer care in Spain
In 2015, Spain had the highest life expectancy among EU countries. Since 2000, most life expectancy gains in Spain have been driven by reductions in mortality rates after the age of 65. Nevertheless, cancer remains the leading cause of death for Spanish men and second-leading cause of death for Spanish women, after cardiovascular disease.1
Between 2010 and 2018, according to AECC (Spanish Association Against Cancer) data and the Burden of Cancer In Spain report by Omakase Consulting, five-year cancer prevalence in Spain increased by 0.24% yearly on average, from 1,225 cases to 1,246 cases per 100,000 inhabitants; incidence increased by 1.45%, from 444 cases to 491 per 100,000 inhabitants; and mortality increased by 1.57%, from 211 cases to 235 per 100,000 inhabitants.2, 3
The total cost of cancer in Spain in 2015 was €5,458 million, representing 8.3% of public health expenditure and 0.51% of Spanish GDP. Direct costs accounted for €4,818 million, which represents 88% of the total cost of cancer in Spain, whereas indirect costs were €640 million. In-hospital costs account for 94% of spending, with just 6% of costs in the primary care setting.2
With increasing life expectancy, prevalence of cancer is expected to continue growing. At the same time, scientific advances to diagnose and treat the condition are also increasing, and we need to ensure cancer patients have equal access to the latest scientific advances, including biomarkers and new treatments. The issue of limited budgets and the affordability of scientific advances is becoming a challenge. Health and long-term care expenditure in Spain are also expected to rise in future as a share of GDP due to population ageing and technological progress. One way to get more resources is to look at current inefficiencies in cancer care that do not add value to increase patient outcomes. The future of oncology seems to be promising; however, the current approach to oncological care in Spain may not be ready for tomorrow. Further efficiency gains in health and long-term care delivery will be needed to address the growing needs of an ageing population in an affordable way.
All.Can Spain initiative
All.Can Spain has launched an 'open' platform called 'All.Can: Changing Cancer in Spain', in collaboration with Bristol-Myers Squibb. The platform has four main objectives:
Contribute to the generation and dissemination of data and evidence on the burden of cancer in Spain
List and prioritise inefficiencies in cancer management in Spain in relation to gains in patient health outcomes
Propose actions to reduce or eliminate cancer care inefficiencies to increase patient health outcomes
Position cancer as a priority in health policy in Spain.
The initiative is supported currently by organisations including cancer patient associations, scientific associations, foundations, public universities, business schools and pharmaceutical companies.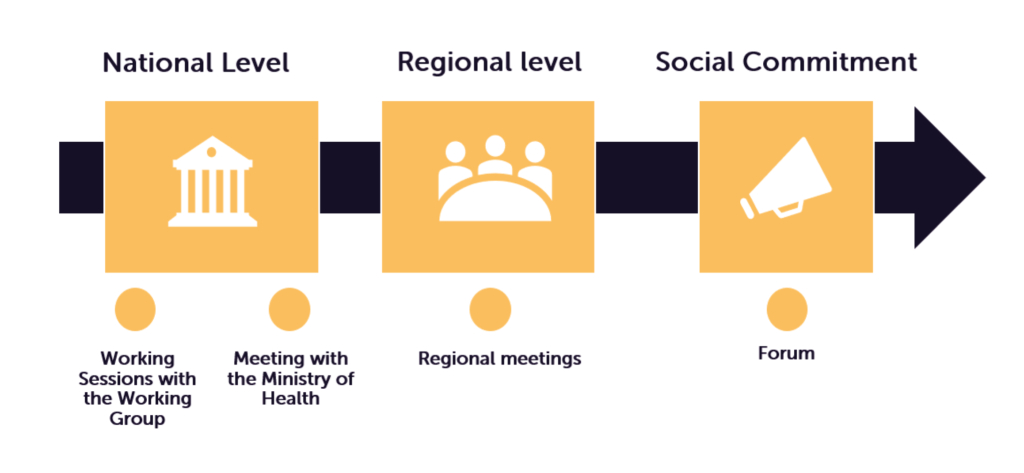 Activities and milestones
A summary of the All.Can Spain initiative is shown here.
The All.Can Spain multidisciplinary working group has already been set up (see 'Members' tab). The first working session with the group was held in July 2018. In this meeting, current inefficiencies in cancer management related to patient health outcomes in Spain were listed and discussed.
The second working session, in mid-September 2018, aimed to: bring short-term and mid-term actions to the inefficiencies listed in the first session; turn them into efficiencies to improve outcomes for cancer patients; and discuss the affordability of such actions. After the second working session, results are expected to be presented in a meeting with representatives from the Spanish Ministry of Health before wider dissemination in different regional meetings across Spain.
As Spain has a decentralised health system, where the regions have autonomy to make decisions regarding health policies and treatments, regional meetings will take place with the objective of rolling out, at a regional level, current cancer inefficiencies related to patient health outcomes. These meetings will aim to position cancer as one of the most relevant health policies.
Last but not least, All.Can Spain wants to raise public awareness on the above-mentioned topics. To achieve this, we will launch a forum towards the end of 2018 or early 2019.
References
State of Health in the EU Available here: http://dx.doi.org/10.1787/888933593836 [accessed: August 2018]
LA CARGA DEL CÁNCER EN ESPAÑA Available here: http://www.omakaseconsulting.com/wp-content/uploads/2018/04/omakase-lab-3-2018--burden-of-cancer-in-spain.pdf [accessed: August 2018]
Observatorio del Cáncer AECC Available here: http://observatorio.aecc.es/ [accessed: August 2018]
Dr Xavier Badia
Omakase Consulting; Moderator of the Working Group
Alfonso Aguarón
Director of project, Lung Cancer Europe
Enric Barba
President of Innovation and Technology, Catalan employers' association CECOT; Member of the Melanoma Spain Association
Dr Miguel Ángel Calleja
President, Spanish Society of Hospital Pharmacy (SEFH); Head of the Pharmacy Service, Virgin Macarena Hospital of Seville
Dr César Hernández
Head of the Department of Medicinal Products for Human Use, Spanish Agency for Medicines and Health Products (AEMPS)
María Gálvez
Director, Platform of Organizations of Patients (POP)
Mercè Marzo
Coordinator, Cancer Working Group of the Spanish Society of Family and Community Medicine (semFYC) and the Catalan Society of Family and Community Medicine (CAMFiC)
Dr Boi Ruiz
President, Know How Advisers (medical consultancy); Former Health Counsellor of Catalonia; Director of the Chair of Health Management and Policies, International University of Catalonia
Jose Antonio Marcos
Hospital Pharmacist, Virgin Macarena Hospital Pharmacy (SEFH) and the Spanish Group of Pharmaceutical Oncology (GEDEFO)
Dr José Luis Trillo
Head of Pharmacy Service, Health Area of the Malvarrosa Clinical Department of Valencia; Former Director of Pharmacy and Health Products, Valencian Health Agency
Dr Carlos Camps
Head of the Medical Oncology Service, General University Hospital of Valencia; President, Spanish Society of Cancer Research (ASEICA)
Dr Eduardo Díaz‑Rubio
Vice-President, Royal Spanish Academy of Medicine; Head of the Translational Oncology Research Unit, San Carlos Clinical Hospital; Professor Emeritus of Oncology, Complutense University
Roberto Saldaña
Founding Member and Secretary, EUPATI Spain
Working group session results
Disclaimer:
The All.Can initiative is made up of leading representatives of patient organisations, policymakers, healthcare professionals, science and industry. All the publications produced under the initiative reflect the consensus of All.Can members who have full editorial control. The All.Can initiative in Spain is funded by Bristol Myers Squibb. None of the content developed in discussions and activities of the All.Can initiative contains direct or indirect references to specific medicinal products or therapies. Use of content from this website is permitted provided that the source of information is clearly mentioned.