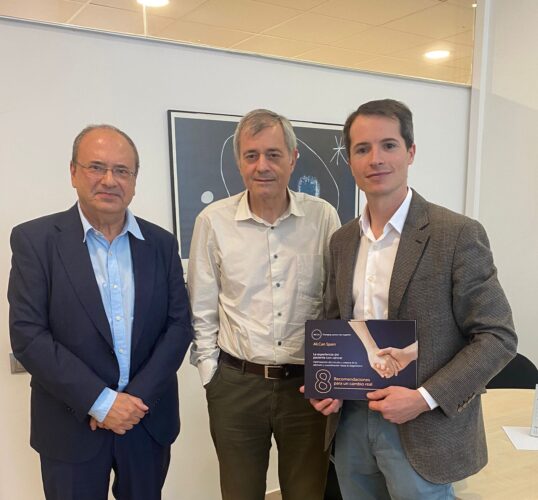 All.Can Spain´s Scientific Committee, represented by Mr. Enric Barba, a patient advocate of Melanoma Spain, has had the opportunity to present the platform and the recommendations of its first report, entitled The cancer patient experience: optimising the circuit and improving coordination and care until diagnosis, to Dr. Josep María Borràs in the Institut Català d'Oncologia (ICO) headquarters.
Dr. Borràs, the coordinator of the latest update of the National Cancer Strategy of the National Health System and head of the Oncology Plan in Catalonia, is one of the country's leading cancer experts. During the conversation, Dr. Borràs and All.Can Spain had the opportunity to share and agree on topics such as:
– The importance of establishing regional coordination plans between Primary Care and Hospital Care to reduce diagnosis times and fragmentation between care levels, as Catalonia does since 2006, and the importance of establishing metrics that allow for evaluation and measurement of results.
– The essential role of tumor committees in guaranteeing the highest quality of care.
– The role of oncology nurses in connecting between levels and improving the cancer patient's experience when navigating the system.
In the coming months, All.Can Spain will continue to disseminate the conclusions of the first report to the heads of the different Autonomous Communities and identify, together with their leading cancer authorities, best practices that can serve as inspiration for other regions to improve coordination and quality of care in the first phase of the circuit.