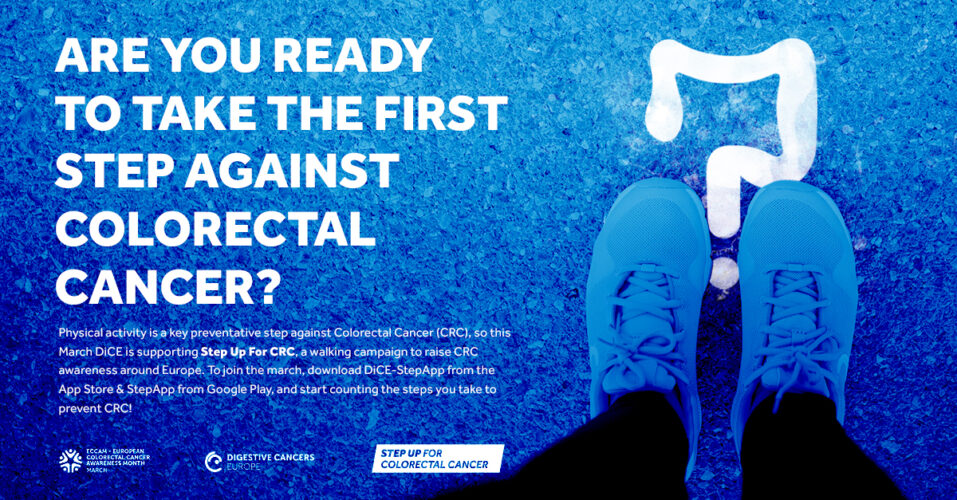 This March we are moving together against Colorectal Cancer!
Did you know that one of the best ways to reduce your Colorectal Cancer (CRC) risk is to engage in regular physical activity? You can read more about managing risk here.
That's why this European Colorectal Cancer Awareness Month (#ECCAM2023), Digestive Cancers Europe (DiCE) is organising a virtual walkathon event all around Europe! Everyone's welcome, whether you have CRC, know someone with CRC, or just want to get involved in taking steps to prevent CRC.
To get involved, simply download our free mobile app STEPAPP and get moving!
For Androids: https://play.google.com/store/apps/details?id=com.ogrelogic.stepapp
For Apple: https://apps.apple.com/be/app/dice-stepapp/id1665136522
Join us on 23rd February for an online launch event to find out more.
Since 2008, every March, Digestive Cancers Europe (DiCE, previously EuropaColon) has been running European Colorectal Cancer Awareness Month campaigns to improve awareness of Colorectal Cancer and to educate the general public on ways to prevent CRC as well as the importance of early diagnosis and screening.
CRC is Europe's second and third most common cancer in women and men, respectively. In 2020 this brought the loss of over 240.000 people's lives, not to mention the devastating effects on families and loved ones.
The updated EU Cancer Screening Recommendations are aiming to offer screening test to 90% of EU Citizens eligible by 2025.
To find out more about your national screening programmes please contact patient organisations in your country.