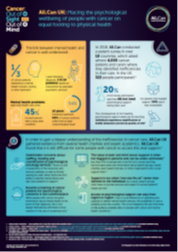 On 8th December All.Can UK launched a report titled All.Can UK: Placing the psychological wellbeing of people with cancer on equal footing to physical health.
A culmination of over a year and a half of evidence and insights gathering, the report explores the barriers patients face in accessing mental health support and examples of best practice across the NHS and voluntary sector in overcoming these barriers. The report calls on policy makers, the UK Government, the National Health Service, patient organisations and industry to work together to place the psychological wellbeing of people with cancer on equal footing to physical health.
As part of the report launch, All.Can UK developed an infographic, pledge card and social media content, which was disseminated via the All.Can International Twitter account. The All.Can UK website section was also updated with the latest materials.
Alongside the report, All.Can UK launched a campaign called Cancer: Out Of Sight Not Out Of Mind, which is designed to raise awareness of the mental health impact of cancer and promote the report in terms of offering solutions to ensure that every patient receives tailored, holistic care that supports their whole being. Over 250 key stakeholders from across patient advocacy groups, Government, policy makers, NHS system leaders, professional bodies and academia received a copy of the report and information on the campaign, alongside a call to action to work collaboratively with All.Can UK to take forward the report's recommendations. The report was also disseminated to UK national and trade media.
In the UK, All.Can is chaired by The Patients Association, a leading national charity which is dedicated to supporting the rights and interests of all patients and their families. The initiative brings together a collaborative Working Group of health charities and pharmaceutical companies. The Working Group are proud of the report they have developed and look forward to further disseminating it in 2021 to drive positive change for people living with, and beyond, cancer.