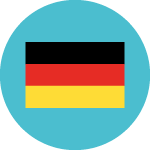 Our highlights
All.Can Germany is currently preparing for a meeting with a consortium of medical professionals and care providers actively engaged in improving cancer care in the rural town of Templin in the German state of Brandenburg.
Our first initial meeting with this consortium proved to be successful. Both sides are interested in further cooperation, and as such representatives from the steering group will be meeting the consortium in the SANA hospital in Templin on 2 December 2021.
This meeting will provide us with the opportunity to gain an insight on the current care provisions and allow us to understand where All.Can can have the greatest impact in improving cancer care in the region.
Based on our first meeting back in September the steering group members worked together to compile a list of targeted questions which will allow us to prioritise our action points for the coming year.
What's next?
The upcoming meeting in Templin will allow us to present our questions to the consortium and put together a series of action points for 2022. Our priority for the next year is to act on the results of the meeting due to happen on 2 December. We look forward to driving the pilot project forward and continue our outreach in the region.