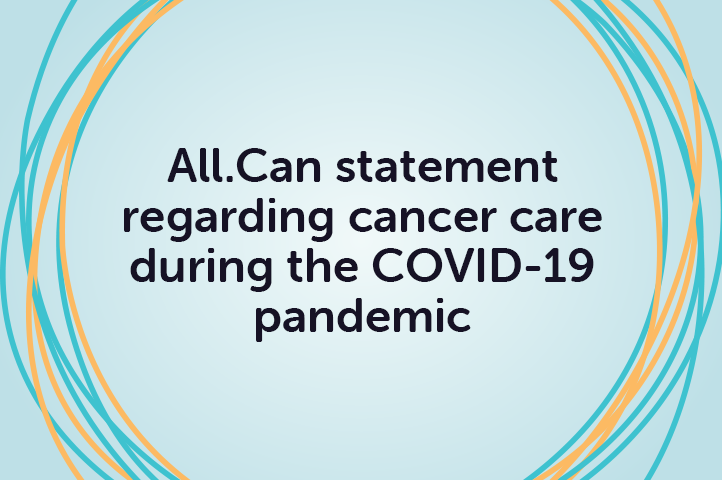 The All.Can efficiency hub highlights pragmatic and efficient practices that can be implemented to mitigate the risks to cancer patients in their care, and the demands on the healthcare services during the COVID-19 crisis.
All.Can wishes to pay tribute, and express its support, to all the healthcare professionals working on the front line in the fight against COVID-19, and to all those helping to keep our societies on their feet during this turbulent time. Our thoughts are with all those affected by the pandemic.
As part of its continuing quest to create a hub of efficient cancer practices, All.Can has identified some practical solutions which could be repurposed to help hospital oncology staff adapt care practices in today's rapidly changing and challenging circumstances.
Many cancer patients and cancer survivors are among those particularly at risk of complications in the COVID-19 pandemic. This is because they may have compromised immune systems and/or major medical problems caused by either their disease or its treatment. For example, those with poor lung function are most at risk of severe complications and death from COVID-19.
In many countries where the pandemic is escalating, the European Society for Medical Oncology (ESMO) reports that measures are being put in place to reduce hospital visits for cancer patients, and to prioritise patients receiving active treatment, while postponing follow-up visits. Further, ESMO reports physicians are often deciding on a case-by-case basis whether treatment should be initiated or continued, whether a visit is really needed or if it can be postponed. In addition, some elective procedures are being postponed in order to free up resources for the inevitable increasing number of COVID-19 patients expected in the coming weeks.
Meanwhile, misinformation is rife and threatens the physical and mental wellbeing of cancer patients.
Informing and supporting patients
While cancer services adapt to care provision under these unprecedented new circumstances, All.Can calls for clear guidance for cancer patients on minimising the risks from the virus as well as on continuity of their care. In particular, All.Can calls for the following:
Provision of clear, evidence-based, up-to-date information to cancer patients and their families on the measures they should take to avoid COVID-19.
Provision of information and support to cancer patients currently undergoing therapy and clear explanation about any changes to their treatment protocols.
Maintaining care continuity
The oncology community is working hard to minimise interruptions in cancer care – and All.Can applauds these efforts – but in some instances, adjustments are recommended. For example, the regional health council in Lombardy, Italy has rapidly implemented new measures for the treatment of cancer patients and containment of COVID-19. These include the following:
Outpatient visits for patients with cancer should be reduced to the safest and most feasible level without jeopardising care.
For patients receiving oral treatment that can be monitored remotely, at least three treatment courses should be supplied to reduce hospital visits. Blood monitoring for such patients should be done in local laboratories close to the patient's home.
Telemedicine services should be employed.
Routine follow-up visits should be postponed.
More intensive surveillance during treatment should be provided for patients with lung cancer or previous lung surgery, and for older cancer patients or those with other comorbidities.
All.Can efficiency hub: best practices for optimising cancer care delivery during the COVID-19 crisis
The All.Can efficiency hub features a range of practices designed to streamline and improve cancer care. At this time we draw attention to the following best practices featured in the All.Can efficiency hub which could be particularly useful during the COVID-19 crisis, including reducing patients' in-person visits to hospital, increasing time between in-person visits to hospital, reorganising cancer care into the community, and reducing the burden on the healthcare professional's time, all while ensuring optimal care:
PROCHE: More efficient chemotherapy appointments through cancer nurse targeted phone interventions
Eurocarers care toolkit: Supporting informal carers for people with cancer
Moovcare®: Web-based follow-up care for cancer patients.
All.Can calls on its network of diverse and well-positioned stakeholders around the world to share further best practices, learnings and resources at this particularly difficult time, to help keep cancer patients safe now and in the future, and support continuity of sustainable cancer care.